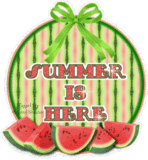 In the U.S., we officially kick off summer this weekend. So kick off your shoes, relax by the pool, eat Bar-B-Q and take a swim. I have such fun online friends! I want to share just a few of them (and their talents) with you today. Come on in and join us for some great summer fun!
I have rented a beautiful beach house in Malibu with an amazing patio, pool and private beach. The view is astounding and the weather is perfect. Have some great food and fun as the sun goes down and stay throughout the night for entertainment under the tiki torches.
Food
Can you smell that flesh sizzling on the grill? Tony Noland from Landless is the grill master tonight.  Dig in with both hands, get sloppy with sauce and enjoy the carnivore delights. Catherine Russell, known as Ganymeder is the grill master for the vegetarians/vegans in the group, she is making delicious veggie skewers (sorry for the sizzling flesh).
I want to thank Sam at Future Nostalgic for bringing 2,000 pounds of fresh Wyrm for the grill. It's excellent with spicy sauce. And, thanks to Laura Eno at A Shift in Dimensions who brought 500 pounds of corn on the cob for the grill. She needs to get rid of it before the Martians return.
Dan Holloway of Year Zero Writers is a dear for sharing his amazing gourmet fare, lots of spoons and especially for the absinthe (Oh yeah, we will pay for that later, but tonight we will enjoy the anise & fire – a perfect drink & show in one).
Deanna Schrayer at  The Life of a Working Writer Mommy and Happy Accidents is preparing Carolina Chillers and Bruschetta. She always has excellent food on her sites. Barry Northern of 21st Century Writer is bringing some very interesting cabbage to make into coleslaw. And, of course, we can't have a party without an excellent selection of wine, hand-picked by Cecilia Dominic at Random Oenophile.
Fun
The Mari-girls – Mariana Blaser of Mariblaser's Randominities and Marisa Birns of Out of Order Alice are the entertainment hostesses. They will make sure the conversations stay lively and that everyone has a drink. We know they do this with such ease and are always loads of fun.
Karen Schindler of Miscellaneous Yammering is teaching us to dance with great enthusiasm – with both feet off the floor. She is always such a great dance partner! And, Angie Capozello of Techtigger's Soapbox will teach us Dancing in the Dark (please don't try this if you've had absinthe).
Jodi MacArthur of Fiction Writer~Jodi MacArthur is in charge of the music because she always chooses the perfect songs to keep us rocking all night. Jemi Fraser of Just Jemi has brought her favorite albums of all time to share with us (some fun albums on that list). The multi-talented Jim Wisneski of Jim Wisneski (and other great websites) has written a special song for us that he will perform. And, we will have a piano concert by P.J. Kaiser of Inspired by Real Life.
Don't worry about eating too much Bar-B-Q and wearing your swim suit in front of each other. At this party, we get to wear our slimmest and sexiest bodies. The best perks of virtual parties is that we get to create our own reality. What better way for fiction writers to have fun than at a fictional virtual party?
I put Carrie Clevenger of Mindspeak in charge of the Night Life and the pool. Take a swim, if you dare. But, I think there is more than one thing to be concerned about in the water. Carrie can be full of surprises when it gets dark out.
For the more cautious swimmers, we have a special pool for you. After our swimming, we will slather ourselves with Estrella Azul's amazing body balm (I love this!) from Life's a Stage – WebBlog.
After swimming, join the party on the lounge chairs along the beach. As the evening progresses, we'll watch the amazing colors of the sunset over the ocean. Annie Q Syed of Trial of Words: Writings and Fragments will share a touching and haunting story about the ocean and show us amazing photographs. Josie Lyon of Safety Comfort: Around the Kitchen Table will lead Conversations From the Sea. And, Marc Nash of Sulci Collective is in charge of our exciting show tonight. He is bringing fire breathers and knife throwers. Please stand back and don't distract the performers! Sam already brought enough meat for grilling.
Jazz
I would like to add a little jazz to our musical performances tonight.
Deanna at  The Life of a Working Writer Mommy mentioned that May 29th is International Jazz Day. So I thought I would share a couple of jazz greats performing "Summertime" to get us in the mood for summer. Deanna is also having a blast of a party this weekend, head on over there for some fun.
I love this cool rendition of "Summertime," by Miles Davis in 1958.
No one sings like this anymore, Ella Fitzgerald sings "Summertime" with her amazing sultry voice.

Does Your Writing Life Change in the Summer?
Do priorities shift or schedules change?
I have been thinking about how different my summer schedule will be when my kids are home everyday. I want to have a great time with them and have made wonderful plans. I also want more writing time before going back to work. I think this summer is going to be a challenge for me.
What about you?
And, of course, what did you do at the party?